Drink-For-A-Cause Bingo Night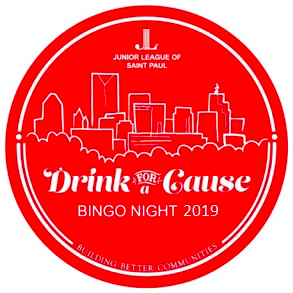 You are invited to join the Junior League of Saint Paul for our Drink for a Cause Bingo Night 2019 on Thursday, November 21st from 6-9pm. As our primary Fall fundraiser, proceeds from this event will go directly towards our mission.
The event will be held at Bad Weather Brewing Company and your $35 ticket will include a Bad Weather Brewing pint of your choice, and 10 Bingo sheets to be used throughout the evening. Food will be available for purchase from food trucks outside the brewery. As is our tradition at our Drink for A Cause Bingo events, we'll have a variety of great prizes for our winners! It's going to be a blast, so we hope you will join us!
Thursday, November 21st, 2019
6:00 – 9:00 pm
Bad Weather Brewing
414 W. 7th Street
St. Paul, MN 55102
Tickets: $35
**Additional Bingo sheets will also be available for purchase, so make sure to bring extra cash to the event!**