New Members of the Junior League of Saint Paul are welcome to apply in the Fall or Spring, and complete an orientation program before becoming Active Members of the League. Our orientation program is designed to introduce you to the League: its history, procedures and community outreach programs. It will also give you the opportunity to get to know other League members, and engage in various service and advocacy opportunities. For more information about becoming a member, we would love to answer all of your questions. Please fill out our new member interest form by clicking the button below, and one of our board members will be in touch with the next steps in your membership journey!

Volunteer Opportunities That Have an Impact
Throughout your first year, you will have numerous opportunities to make an impact in our community by participating in our community outreach programs. Additionally, fundraisers are a critical component to our success, so you will be invited to help us raise funds by participating in a variety of exciting and meaningf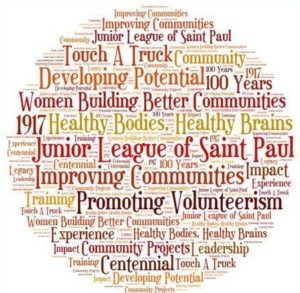 ul fundraising events.
Meet Other Dynamic and Interesting Women
As you begin your JLSP membership, you will truly get the most of your League experience by attending monthly General Membership Meetings and Social activities to help get to know your fellow members. This is your opportunity to network and build lifelong friendships.
Hands-On Training and Continuing Education
Training volunteers has been a cornerstone of the Junior League since its founding, and continues to set us apart from other organizations today. You'll begin your training with the Junior League of Saint Paul by participating in our community and fundraising events as well as through our monthly General Membership Meetings. At these GMMs, we invite experts to give specific training to members, and community leaders to address the League about issues affecting our community.
New Member Experience Activities:

Pay annual (June 1- May 31) Member dues of $158 (Fall Class) or $79 (Spring Class)*
Attend New Member orientation training (Fall or Spring)*
Attend four monthly General Membership Meetings (Fall Class), or two monthly General Membership Meetings (Spring Class)
Complete two Community Project Hours or a New Member Project
Participate in JLSP Fundraisers
* = required
Questions? Please email membership@jlsp.org!