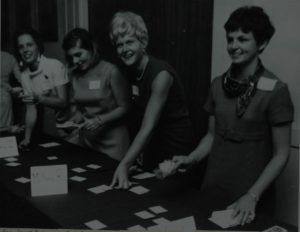 For 100 years, the Junior League of Saint Paul (JLSP) has retained a rich tradition of serving the greater Saint Paul community. Established in 1917 by Saint Paul native Elizabeth Ames Jackson, the Junior League of Saint Paul was the 19th Junior League created following the inception of the first Junior League in New York City in 1901.
---
Timeline
Throughout our history, we have engaged in many community service projects, independently and in collaboration with other organizations. The focus of these projects has changed with the evolving needs of the Saint Paul community. Our legacy of community impact includes the following initiatives:
World War I Red Cross Relief Campaign 1917
Children's Hospital Association Free Bed Fund 1933
Keystone Community Services, started by JLSP in 1938
Saint Paul Rehabilitation Center (now Lifetrack Resources) Co-Sponsor 1948-54
Eye and Ear Alert Program (now pre-kindergarten screening, a community standard) 1961
Community Arts Survey resulting in first Arts and Science Center which evolved into the Science Museum of Minnesota and the Saint Paul Arts Council (now United Arts) 1965
Warner Nature Center development with Saint Paul Science Museum 1965-70
Bucket Brigade and the Omnibus Program, early tutoring programs in the Saint Paul Public Schools for both students not achieving their potential and for high achieving students 1970s
Hmong Art Project to help Hmong women promote and sell their needlework 1981-82
Educational Program for Too Early Pregnancy – "Too Far, Too Fast" 1981-85
Shaken Baby Syndrome public awareness and education project 1992-99
DreamSacks™ to benefit homeless children in crisis shelters 1996-99
Silent Witness – Minnesota chapter established by JLSP; League participated in March on Washington 1997
Partnership with Women's Advocates battered women's shelter to renew their volunteer program 2003-07
Extreme Home Makeover 2007 & 2009
Building Bonds Through Reading and Play – partnership with the City of Saint Paul Parks and Recreation 2007-10
Backpack Buddies with John A. Johnson Elementary School, providing weekend food to students 2010-14
Family Food Boxes and Junior Chef Program 2015-16
Junior Chef 2016-2018
Human Trafficking Awareness – Blue Dress Initiative 2017-2018
Stable Housing, Thriving Community initiative launched 2019
---
Past Presidents
The Junior League of Saint Paul continues to thrive in part due to the leadership, guidance and commitment of the women who have served as its President.