Current Community Projects
Our current initiative, "Healthy Bodies, Healthy Brains," seeks to impact children's readiness to learn as it relates to the issue area of food insecurity and nutrition.
Since 2010, JLSP has been focused on the issue of food insecurity in Saint Paul and has delivered over 50,000 pounds of food to children through the Backpack Buddies program. Backpack Buddies worked to bridge the gap between Friday and Monday for children whose primary access to meals is through their school cafeterias.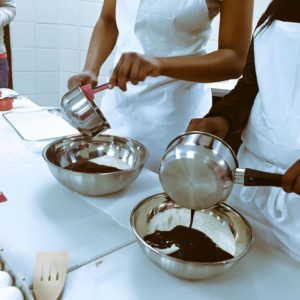 In 2015, we introduced Family Food Boxes in partnership with Dayton's Bluff Rec Center. Through Family Food Boxes, we curated food boxes for 100 families per month during the critical last week of the month when Supplemental Nutrition Assistance Program (SNAP) benefits and money can begin to run low.
In 2016, the JLSP Junior Chef Program began at Rice Street Teen Zone. The Junior Chef Program provides teens with the skills and knowledge they need to help prepare healthy meals at home. Through these programs, JLSP has helped address the limited or uncertain availability of nutritionally adequate and safe food.