Give to the Max Day is November 16th, 2017! Donate to support our Junior Chef Program. 
Our Junior Chef Program will take place at the Dayton's Bluff Center kitchen on the East Side of Saint Paul. Through our partnership with Big Brother/Big Sister, we give the students an opportunity to learn a variety of recipes with food typically found in groceries from food shelves and other food distributing resources.
We are estimating a baseline cost per student is $25.00 including the groceries during the class and the curriculum. In addition, our goal is to include a bag of groceries and the cooking supplies needed to send home with each student. This will encourage the students to successfully create the meals at home with confidence of their skills in the kitchen, providing a healthy, home cooked meal for their family.
In addition, we will be focusing on a Mini Junior Chef Program. This shorter length class will incorporate aspects of STEM (science, technology, engineering, math). Topics such as a Spices and Flavors Class will teach kids why spices taste different and the plants they come from. Here, students will be able to participate in creating a grow-at-home herb kit.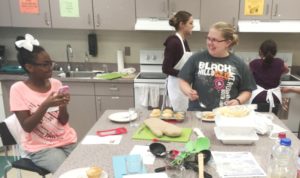 Give to the Max Day Tiered Donation List
$10.00 – Provides curriculum for one student in our Mini Junior Chef Class
$25.00 – Provides curriculum in our Junior Chef Program for one student
$50.00 – Sponsors and entire Mini Junior Chef Class
$100.00 – Provides each student in our Junior Chef Program class with a bag of groceries and cooking supplies so they can create healthy meals at home while gaining confidence in their skills
$250.00 –  Provides curriculum for 10 Junior Chef Program participants
$500.00 – Sponsors five weeks of our Junior Chef Program classes
$1000.00 – Sponsors five weeks of our Junior Chef Program classes, plus sends each student home with a bag of groceries and cooking supplies to create healthy meals at home while gaining confidence in the kitchen