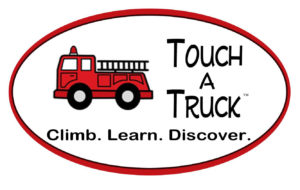 The Junior League of Saint Paul Presents
TOUCH A TRUCK™
Saturday, September 30, 2017
3:00 pm – 7:00 pm
Harmon Park, West Saint Paul
---
A fun, educational, "hands on" experience for kids of all ages!
Pack up the kiddos and join us at Touch A Truck™ for an afternoon of family fun! Touch A Truck™ is a fun, educational event for children of all ages that allows kids to explore, learn about, and experience up close some of their favorite big trucks and vehicles. Some of the trucks available will be emergency and first responder vehicles, construction equipment, and a dump truck, just to name a few!
Event Details
Time: 3:00 – 7:00 p.m.
*1st Hour is is Horn Free! If your little one needs a more sensory friendly experience,
join us early from 3 – 4 pm for lots of fun without the horns or sirens.
Location: Harmon Park,
230 Bernard Street West,
West Saint Paul, Minnesota 55118
Admission: FREE!
Donations: We will be collecting non-perishable food pantry donations at the event. All items will go to the food shelf at Neighbors, inc. serving West Saint Paul.
Entertainment: This event will feature entertainment from Teddy Bear Band (playing 3 – 5pm), and will include various other family activities like yard games, a bounce house, and much more! Food and beverages will also be available for purchase. Fireworks are set to take place after the event at 7:30 pm.
Touch A Truck™ Birthday Parties
New to Touch A Truck this year, have your birthday party with us!
We have 2 time slots available for your truck loving kid to celebrate!
Find out more: 2017 TAT Birthday Party
Sponsors
Contact touchatruck@jlsp.org if you are interested in sponsoring Touch a Truck™ 2017!
Questions?
Contact touchatruck@jlsp.org.
---
Thank you 2017 Sponsors!
Title Sponsor
Silver Sponsors